‹ Go back to educational blog
Create a Beautiful Synthesis Essay Outline on Ease
October 31, 2019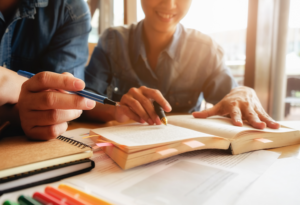 Any writing task can become a real challenge for students if they use the wrong approach for completing their assignments. One of the most common mistakes is ignoring creating a synthesis essay outline before moving to write the main text. It is not surprising that many students skip this part as soon as there are some examples when they even cannot define the meaning of the synthesis essay task. But if you are reading this article it means you are on your way to obtaining required knowledge on how to work on your essay properly.
This article is dedicated to the importance of an outline in general when it comes to any academic writing. Some students consider it is a waste of time preferring to spend more time on writing. But you also might be surprised that creating an outline is the right time-saving trick. Planning your text will help you to arrange your thoughts and the collected materials. We will move to its benefit further. Now we want to warn you that after reading this article and checking the examples you will be convinced that you should work on your essay outline any time you receive a writing assignment.
Why Do You Need an Outline?
Let's discuss more detailed why it is important to work on an outline before writing. We would like to drive your attention to the words of Arnold Schopenhauer, the German philosopher, and writer. He compared writing a text with the building. He said: "Write the way an architect builds, who first drafts his plan and designs every detail." What great advice for students who want to develop their writing skills. This phrase provides a deeper understanding of why planning is important.
In building industry carpenters will never start building a house without a detailed plan. They do not work blindly. The teams of builders consult, coordinate their actions and follow one single approved plan. The teamwork is impossible without a definite plan. Otherwise, anybody will follow different plans and the house will never be completer. The entire project will simply collapse.
But thanks to some kind of outline, or a plan that carpenter uses, every action is coordinated and set in the particular sequence.
The same is with writing. Every professional author starts with planning their composition before even writing the first word. They can keep the outline in mind or note it on a paper. The main task of it is to arrange your thoughts and the available material in its best to disclose the topic. The proper outline serves as a guide in the writing process showing where to direct your thoughts and what ideas to disclose on this stage. Following the plan will prevent your project from collapsing as well.
One more thing to repeat: it does not matter what type of essay or any other academic writing you are about to work on, an outline is a must in any case. If you want to create a decent and meaningful essay, of course. This is obligatory for any type of writing whether you consider it as a very formal activity or act casually. If your final goal is to create coherent and compelling text, you should make some preparations first. And it means composing an outline.
So, let's recall one more time basic reasons for creating an outline for any type of academic writing:
It helps to stay organized and arrange your materials and thought;
It allows to keep on the one path in your writing process and present ideas in a particular order;
It maintains your inspiration as you know what you should write next and the previous text pushes your thoughts in the right direction.
Synthesis Essay Outline Structure
It will be much easier for you to create your own outline if you will follow the examples and templates. Speaking of templates, it is easy to create some. You just need to specify the parts of your future text. And then mention what elements you should keep in mind in order to disclose the statement in the essay during writing.
So let's try to create a typical example of an essay outline. Let's use the following topic: "Issues of the immigration policy executive order"
Here's the structure of our future essay:
1. Introduction
2. Body
 Statement
 Counterargument
 Support 1
 Support 2
 Support 3
3. Conclusion
Now let's widen them
Introduction
Hook the reader with a catching phrase or statement. Provide the background info on the opened topic. Explain why the methods used by America are mistaken. Support your claim with your own point of view and fact and side arguments.
Body
Mention the thesis of your essay and in short, specify the supporting arguments. No more than 2 sentences. This outline is only for your personal use so mark the ideas you want to disclose more detailed in your essays.
Provide arguments that are opposite to your thesis. Specify the counter view on the topic. This will show that you are aware of various sides of the situation. But then provide arguments that show why you do not support the opposite views and why you consider them invalid. Strengthen your claim with facts and arguments in favor of your view. Conclude this section with a summarizing sentence.
Specify a less valuable argument that maintains your thesis. Show the connection of the=is argument with your topic. Add some quotations of the sources of information you use for your research. Point out the supporting evidence. Explain to the reader how this evidence is connected with your topic and statements. Repeat the main ideas of this section.
Now move to the stronger argument that also maintains your thesis. Select a suitable topic sentence. Add facts and supporting evidence to maintain your points again and provide your personal comments.
End up with the strongest argument you have. Work in writing a thesis statement
and present it in the most important position. Add quotes from a few sources that have the strongest arguments, proofs, and supports for your thesis. Comment each thought you use in this section to show that you understand what it is all about. Concluding sentences should summarize the ideas of this paragraph.
Conclusion
Now you have to create a general summary that will combine all the ideas, thoughts and statements that were mentioned in the body section. Restate the main idea of your essay in other words but without changing its meaning or tone. Use examples, questions, and thoughts that will lead to the relevant conclusion in your essay and in the readers' minds. A good idea is to end up with some type for a call to action in order to motivate your readers to rethink their attitude to the discussed issue. Persuade readers with the opposite views that they are wrong.
Here are some recommendations to keep in mind while writing your synthesis analysis paper:
Come up with an organizing method that will make it easy for you to keep in mind all the resources, statements, arguments and proofs in order not to mix the order of the main ideas you are about to disclose;
Make sure you know the content and the significance of all the sources you have used in your research. This is important for separating your own and the acquired ones. Any side thought you should mark as a quote or citation using the proper format. List all citations at the end of your outline.
Do not make your language too complicated. If you want to use some terms, make sure you know the right meaning of them and your audience will understand what you want to tell as well.
After all, your success in writing a synthesis essay depends on how well you know the topic. It means your research should be deep enough to feel confident in your knowledge. This position will help you to manipulate facts, arguments, and opinions in order to prove that your thesis is right while other points of view are mistaken.
How to Craft a Worthy Synthesis Essay Outline?
An outline for a synthesis essay is a crucial aspect. With it, you will be able to follow the particular frame in your narration and stick to the definite plan. Many students focus on writing and researching ignoring the outline creation. But it is obvious at once when the writer has skipped the planning phase. You are risking running out of a limited number of words or your sections might be unequal or you might write a lot about the first two arguments while for the last one, the strongest one, you will not have words or ideas.
Without outlining you may miss some important arguments or facts. It is not an easy task to keep in mind all the supporting facts and statements so there are high chances that without a plan you will skip some of them, and it might have a crucial impact on your final text. Just imagine how many problems yo9u can avoid simply writing an outline.
In order to make it quality and helpful, follow these steps on how to write a synthesis essay outline:
Research all the available sources connected to your topic.
Define the main arguments that will be useful in your essay. Do not pay attention to minor or irrelevant ideas. Stick to ones that are strong and directly prove your claims.
Focus not only on the summarizing the ideas but analyze them offering your personal views on the described issues using the information from the sources with supporting thoughts.
In case you find the argument that proves your statement might be mistaken as well, do not hide it but use it in your essay as well. This approach will add credibility to your text as it will be obvious that you do not juggle with facts but are aimed at defining the truth. Also, it will show that you have conducted a deep synthesis analysis and acknowledge that there are some opposite views.
Write an outline. Divide your text into sections you will need for proper topic disclosing (see the example above). Usually, they are an intro, body (with arguments) and conclusion. Add and mark quotes where necessary.
But do not add too many quotes as well. Remember that this essay should represent your views with some additional proof. But if your text contains only ideas of other people, you do not offer your readers any new thoughts so your essay will be meaningless. As soon as you have finished researching and analyzing the available sources follow these steps:
Make sure again that you have conducted a deep analysis, enough to be aware of the topic. This is the case when you will be able to understand all its aspects and analyze it properly. It is impossible to create a quality outline without a deep understanding of the subject. Do not rush to work on your outline. Take time to investigate materials first. Only when you will be able to state the thesis, purpose, and style of your essay, then you will be able to work on your outline properly.
Define the topic. If you can choose your topic, make sure to compose the title in a way to intrigue and catch the attention of the reader. Not every title will have this effect. Plain and too simple titles will only repel the readers or they will read your essay without intention to understand it. But as soon as you compose captivating and relevant to the current events and situations topic, you level up drastically your chances for success. Make sure that this intriguing title matches the content and the materials you have investigated. Also, do not can your essay with a title you do not understand completely. Otherwise, you risk falling into every aspect of your writing assignment.
Define the thesis of your paper. This is the heart of your essay, the main idea that you are about to support and explain. So, compose a meaningful sentence that will reflect the purpose of your writing and what you want to prove there. It should be related to the topic and the subject of your text.
Additional Tips to Keep in Mind
The outline helps you to check whether your materials are arranged in a way you can see the clear picture of yo9ur text, as well as your readers, will be able to follow the flow of your thoughts. Collect info about all the sources you use and make a proper citation in your essay in every case you quote or refer to someone's words. Follow the required formatting (check it in your class or ask the teacher). Create a list of sources to add the reference list to your outline.
Use the standard language and to not overwhelm your text with complicated or unknown words and phrases. Your task is to prove your point and it is crucial your reader understand you on this stage. Pay attention to explaining all the terms and phenomena your reader might not be familiar with.
So let's revise what you should do in order to create a quality outline and to write a meaningful essay eventually:
Understand the topic completely after deep and thorough research;
Do not skip the important parts and be honest of you will find arguments that will not fit your plan but will have a weight for disclosing the topic;
Use strong but understandable language in order to persuade your readers.
We hope our recommendations and examples will be useful for you and you will succeed in writing your essay outline.