‹ Go back to educational blog
A Scholarship Essay: Tips on How to Write It to Get a Scholarship
May 25, 2020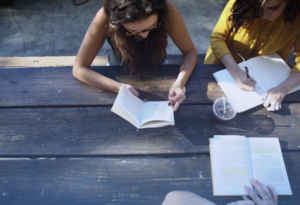 A scholarship essay is an essay that is written to receive a scholarship. You write it when you want to apply for a scholarship and you are going to participate in a contest to win it.
60 Fresh Topics to Write a Splendid Scholarship Essay
My hobby is…creative.
Qualities that helped me to study well at school.
How parents helped me to develop my essential character traits.
How my favorite book (film, etc.) changed me.
How my character changed for the last several years.
What traits I plan to develop or change in my personality.
What dreams I am planning to fulfill.
How friends influence me.
Methods that help me to rest from everyday stress.
Why staying active is necessary for me.
Communication is the key to personal development.
How my extracurricular activities help me to develop my writing skills.
What skills are important in life. How I plan to develop them.
How my first traveling abroad altered my life.
Why I need to read good books.
Sport is a significant part of my everyday routine.
Why staying productive is essential for me.
How I chose my future profession and what influenced it.
Why I need to be an attentive listener.
The most difficult time in my life and how it has changed me.
What trait of my character I like most of all.
What person I dream of being. How I plan to become that type of person.
What character traits will help me in my future job?
How being responsible helps me in my study.
One of the most significant societal problems nowadays. What measures can I suggest to resolve it?
What book inspires me and what significant questions are discussed in it.
What types of discrimination still exist in the world. Equal rights and freedoms that are unalienable.
Why people fight for their rights and freedoms.
How traveling broadened my horizons.
Write about your financial circumstances and why you need assistance.
How to get a scholarship might influence my financial standpoint.
How I chose my future profession.
What changes have to be made to improve the growing social discrepancies between the rich and the poor.
Why I consider discipline important.
The importance of volunteering experience.
How getting a higher education will help me to contribute to society.
What is a great success for me? What people do I consider successful?
How education can broaden our horizons.
Social changes that happened to women in the 20th century.
Skills I should develop to live a fulfilling life.
How I have changed for the last two years.
What goals does a good education allow to reach?
Who is my significant role-model?
How I understand the significance of preserving good health.
What personal goals I want to achieve this year and how.
Why staying focused is important in the study and everyday life.
What is personal development for me. How will it help me during my studies and work?
Why I like to live a minimalist life. Benefits this way of living has.
How life experience contributed to my change.
Why is life coaching essential nowadays?
Why it is necessary to take control where time is going.
The most momentous day of my life.
What was the greatest lesson my life has taught me?
What was the biggest challenge in my life?
What I am keen on.
Why it is significant for me to be financially literate.
Why I think that hardships are a necessary part of life.
Why I think a person must take responsibility for our circumstances.
How every person can become a good role model.
How my values might help me in my studies.
The Structure of a Scholarship Essay
If you write a scholarship essay, it's important to write an outline and stick to a particular structure. It will help you to guide the reader through the essay and stay organized.
A typical scholarship essay has three principal parts as for any other essay: the introductory part, the body, the conclusion. All these parts have their purposes and are equally important.
The introductory part of a scholarship essay (the introduction). The introduction of a scholarship essay usually consists of a compelling hook, a thesis, a captivating sentence to captivate the reader's attention.
A well-written thesis of your scholarship essay is, probably, most significant for your success. It allows the reader to comprehend the focus of the text and if it is relevant to the major concept of your essay. Make your thesis as compelling as possible.
The body of a scholarship essay. You should start every paragraph of the body with an argument that backs up the thesis. Then you should write some evidence supporting your position. The final sentence of each paragraph summarizes its principal idea.
The conclusion. This part, though at the end of your essay, plays an essential role in the success of your paper. After all, it might be the only paragraph the reader remembers. Conclude your essay outstanding. The reader should understand why you might be a superb candidate for a scholarship. By your essay, you should persuade the commission that you are a decent and diligent student, creative and striving for excellence, and you deserve a scholarship like nobody else.
Significant Tips on How to Write a Flawless Scholarship Essay
To write a top-notch scholarship essay, you should take into consideration several essential tips:
You should read all the instructions attentively to fully comprehend them before you begin to write your scholarship essay.
To make the process of writing easier, write an outline.
When you write your essay, you should adhere to each point of the outline.
Your language should be simple but clear and concise.
After you've completed your essay, make sure to check whether your essay addresses each point of the question.
Below you will find more tips that will help you to choose the right strategy in writing your scholarship essay:
Catch the reader's attention with a powerful introduction. Make the reader want to read more with a compelling introductory part. Besides, if you write an impressive introduction, that will make your scholarship essay stand out from hundreds of other essays.
To save your time trying to use the same essay applying for different scholarships. There are usually a lot of various contests, and the same essay may fit several with a bit of fixing. Doing that, you win a lot of time and, maybe, a scholarship!
Be unpredictable. Try not to write things that many could write.
Clearly understand and follow the instructions. Write your essay adhering to their rules.
Stay within the limit of your scholarship topic.
Your scholarship essay should have a strong point that you will write in your thesis statement. At the same time, it should be an answer to the principal question of your paper.
Check your scholarship essay for spelling errors. A neatly written essay will surely differ from other essays.
Mind your grammar. Make sure the punctuation of your essay is correct.
Be emotionally involved in what you are writing. The reader will feel that you are interested in what you write. Write about something that you are really enthusiastic about.
Don't make your conclusion verbose. It should be compelling for the reader; don't just paraphrase your thesis statement. From this conclusion, the reader should understand why your essay is noteworthy.
A Sample Scholarship Essay
My name is Abbie Oneil. In the fall, I will attend the University of Cambridge, and now I am a college graduate. My dream is to get a medical degree, so I will become a pediatrician. My goal is to help children and work in rural clinics that require young motivated specialists. Healthcare in rural regions needs to be developed. I know that a lot of rural clinics are in need of modern equipment, additional financing, and dedicated professionals. I've been participating in the volunteer movement. We helped children from poor families with clothes, toys, medicines, and organized several trips to do some sightseeing. My experience allows me to understand children and their needs. I know how to take care of a child and have acquired some necessary skills. Hopefully, I will fulfill my aspirations in my future job after I get a medical degree.
To get a scholarship, you will need to write a spectacular essay. That may not seem an easy task for you, but if you know what to write and how to write, it becomes a lot easier. The suggested 60 topics will help you to get an idea of what topics might be given to you. Your task is to impress the committee member and persuade that you deserve that scholarship. If you carefully read and follow the recommendations in this article, you will have a fair chance of winning a scholarship.