‹ Go back to educational blog
Composing an Essay with Rhetorical Analysis: What Should You Know?
February 18, 2020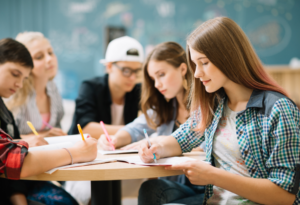 Many students start panicking when they get an assignment to work on a rhetorical analysis essay. They are concerned with the writing part while missing the analytical process. Or they might get confused with what was style or the purpose of the artwork. But do not worry! This article will help you to cope with this task. You will have to write about shows, movies or pieces of literature in order to define the statement the author wanted to diver to the audience. You will need to analyze the thesis of the work and conclude whether the author's attempts were successful. Keep reading and you will learn from this article how to do everything right.
A Rhetorical Analysis Essay: Preparation
The preparation stage is significant as without it you will not be able to compose a quality essay on exams when you do not have much time and you are supposed to know all basics already. So research the topic and discover the main elements of writing this essay before getting an actual task. While studying the object of analysis do not waste time just reading a piece but take notes at the same time. This will help you to analyze the text at the same time and then have extra minutes to express your thoughts in the essay. To have the right notes, keep in mind the following questions for analysis:
Who is the author of the analyzed artwork?
What were his/her intentions while creating it?
Who was the expected audience of the sent message?
What was the artwork created for?
Did it reach its purpose or will it in the future?
Remember these points in order to analyze a piece of work while reading/watching/listening to it and try to answer them at the same time. This will help you to detect the elements important for the analysis.
Also, the preparation stage means studying the examples of rhetorical analysis essays to understand the way of writing it and approaches for analysis.
Outlining Your Future Essay
As soon as you finish estimating the text, you should make a plan for your essay and arrange your thoughts outlining the future text. You can follow the basic 5-6 paragraphs structure and arrange your notes according to the purpose of each part of your essay. Using this approach you will have higher chances to meet your examination's expectations. The size of each paragraph is pretty the same, so it is important to define the number of body paragraphs to disclose all your ideas.
Writing an introduction
You will express your main ideas and analysis in the body paragraphs. However, the introduction is very important for setting the right "mood" for estimating your work. Your task here is to state the purpose of your essay and hook the reader to motivate to keep reading. You can name the main facts and points you are about to disclose. Also, you have to explain why you have chosen this text and analysis approach. But do not reveal everything in this part as the detailed description of your work will be in the following paragraphs.
Creating body paragraphs
This is an essential part of your essay. Here you should state your main thoughts and provide arguments. Each paragraph should answer the particular question. Here you provide an analysis of the author's statement and approaches to disclose the problem.
Define the main thesis of the author and dedicate a paragraph to each of them. It should provide answers to the following questions:
What strategy did the author use?
Was it successful?
What are other examples of using this strategy?
Why is the author has chosen this particular approach?
Did the audience react as expected?
What feelings did that strategy provoke?
But try to fit in the stated length of the paragraph in order to leave space for other essay sections.
Writing a conclusion
As soon as you are done with the body you have to conclude everything you have disclosed in your rhetorical analysis essay. It should be relevant to the stated ideas and connected to the intro where you only named the problems. Here you provide results that you have come up with. Describe your feelings about the analyzed artwork and tell what feelings the target audience might have had. Moreover, you should explain why your analysis is important and why it worth the reader's attention.
Tips for Writing a Rhetorical Analysis
But knowing basic writing principles are not enough. Even if you do not have problems with writing the text, you still can make it better. If you have 5 minutes left until the end of the exam, you can use the following tips as a checklist for making sure your essay will be written properly.
Size. Keep in mind that you are limited to a particular length of the text. So avoid adding unnecessary info. Do not write a too-long intro or conclusion. Depending on the teachers' requirements these parts can be no more than 500-700 words. The body paragraphs, on the contrary, should be more informative and detailed.
Language. Showcase your rich vocabulary in order to impress your professor. But make sure that the words you use are suitable for the though you want to express.
Grammar. This may seem obvious, but do not underestimate the harm that poor grammar may cause. Even slight mistakes can spoil the entire impression of your essay. Do not risk and check the grammar and use the technical means if possible.
Present tense. In rhetorical essays, it is better to use the present tense. This is not an official requirement. However, this remains an unspoken rule for any academic writing tasks. Write your statements using present forms and you will exclude most of the cases of confusion. What is more, this approach makes the reader feel that the described issues are happening in the exact moment.
Consistency. Define the best style and choose suitable transition words. Working on this aspect will help you to make your essay readable and clear to the audience. Also, the right punctuation will help to highlight the important parts and arrange the reader's thoughts in the proper way. Move from one point to another smoothly sticking to the common logic in every argument.
Using relevant techniques. Your essay should be written with relevant and up-to-date techniques in order to present your arguments in the best way. Use various approaches and combine them in order to persuade your audience.
Studying great examples. This is one of the most effective approaches to learning and improving your writing skills. Studying examples of other rhetorical essays will help you to define their main principles and discover working approaches.
Applying strong supporting vocabulary. In order to make your rhetorical analysis essay persuasive and valuable, you should use strong vocabulary. Descriptive adverbs and adjectives can help.
Analyze. Another seems-like obvious tip. But some students do not conduct an actual analysis, they just list facts. But you have to describe the influence of every artistic means the artist used in his artwork and specify their effect.
Proofreading and editing. Even if you are completely confident in your writing, vocabulary and grammar skills, you still have to proofread your essay before giving it to the teacher. First of all, it will help to detect grammar mistakes and correct the, secondly, while proofreading you should check the consistency and any previous feature of the text. Also, you can ask your friends or parents to help with this task. Their "fresh" eye can spot mistakes and errors better.
10 Great Examples of Rhetorical Analysis Essay Topics
Three witches in "Macbeth": what was their purpose?
What mood did Obama's speech have?
Thank people for smoking.
Abraham Lincoln's Emancipation Proclamation: what information it contains?
Did you feel the faith in "the dream" by Martin Luther King?
Freedom of choice is represented by piercing, tattoos, and symbolic clothes.
School uniform is good for students' learning results.
Analysis of the speech you have heard recently.
Conduct an analysis of Edgar Allan Poe's "The Raven".
Believing in men by William Wallace.
Moreover, there numerous ideas that can make a great rhetorical analysis essay topic. It is up to you what issue to bring and what piece of literature to analyze.
Use the Help of Professionals in Need
We hope that our recommendations, guidelines and topic ideas will be useful for you when you will get as an assignment to write a rhetorical essay. But we all are humans and live in the imperfect world. And if you cannot cope with the writing task or achieve satisfactory results, you are free to look for other options. One of them is addressing your request to our service and getting the expert writing. Their extensive experience and deep knowledge of the topic will ensure the best text for your assignment.