‹ Go back to educational blog
Choosing Persuasive Essay Topics: Recommendations and Ideas
February 15, 2020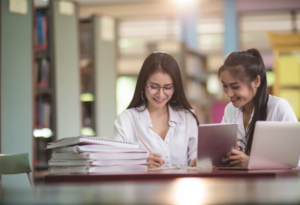 When students get the task to write an essay, they are supposed to share their views, feelings, and conclusions considering the topic. The writing process consists of many aspects that should be trained all the time. However, some students face difficulties on the stage of choosing persuasive essay topics. There are cases when teachers suggest some variants, but often they can only guide students in the right direction. The creating of the topic becomes student's responsibility. It is okay if you cannot come up with ideas that are both interesting and relevant to the subject. In this article we will share some recommendations for choosing themes for your writing tasks. Also you will find our list of topic ideas that can be used for your assignment or adjusted to the requirements.
Persuasive Essay: Definition
Before looking for the topic ideas you should know exactly what type of writing you will work on. If you are assigned to compose a persuasive essay, you will have to explain a particular issue and persuade your readers that your point of view on the problem is right. It can be confused with argumentative essays. However, in this case your task is not only to provide arguments to support your statement but also persuade your reader to change his mind. That is why working on this essay means not only conducting deep research but also knowing your target audience and their pain points and concerns.
Persuasive Essay Writing Tips
Half of your success depends on choosing the right topic, so this article is aimed mostly at this issue. So first of all, define what you want to share with readers and convince them to believe. But after this you should research the topic as deep as possible. Investigate all the available sources of the relevant information and collect as many data as possible to use it in your text.
Arrange the materials for better navigation. Then write an outline where you will mark the key stages of your essay. Specify the main points of the problem and connect them with materials that are supposed to persuade readers. Use only those arguments that will influence the target audience as your task, as we already, mentioned, to persuade.
Choosing a Topic for a Persuasive Essay
Start with thinking of the discipline or the subject your topic should be connected with. What aspects concern you more? What views and statements require revision in this case? After this think makes sure that your ideas are interesting to most of your audience as well. Do they share your views too or they need to be persuaded? Will your essay help them to get deeper understanding of the subject and improve their knowledge? Try to find a middle ground between these features and then start working on the topic.
Topic Ideas for Any Case
Here are lists of a few ideas that might be helpful if you are stuck on this stage. They are divided into groups according to the academic level. Plus, there is a bonus with some funny ideas.
Topic ideas for college persuasive essays
Working hard on your task can bring you satisfaction at the end of the work.
Adjust your clothing preferences to the job of your dreams.
Feeling always right: is it the key to life satisfaction?
How to cope with embarrassing situations in life?
Overcoming difficult situations makes people more thankful in life.
Trying something new can improve your life on various levels.
How to reach success in anything?
How self-confidence is connected with success in life?
Why people should have hobbies?
Music therapy as an effective stress-relieving method.
How to cope with an unstable military situation in your country?
Why it is important to present your home assignment before class in an oral form?
How simple hobbies can become an activity for life?
Why students should use their phones in schools?
Menus in school cafeterias should follow healthy dieting regulations.
Food in schools and colleges should be free for students.
Why money is important for feeling happy today?
Five-day working week: why this approach becomes less effective?
Why it is important for kids to have pets?
Recycling: why we should teach children from the very childhood?
Topic ideas for high school persuasive essays
Why the death penalty should be used in some cases of serious crimes?
Generation gap: how to fill it with education older generation?
Why rich people should pay more taxes?
Having an exotic animal as a pet: why is this wrong?
Honesty is the best policy: is it true in all life situations?
Turning hobbies into the career: the modern way to find happiness.
Being kind to anyone will be rewarded anyway.
Obligatory military service: is it right?
Raising confidence while experience embarrassing situations.
We need to work on protecting human rights more than on protecting wild animals.
Humanity should treat natural animal habitats with respect.
What actions can protect rare species from being completely extinct?
Why is it important to develop a survival plan in case of a natural disaster?
Internet access should be free to everyone.
Couples should learn to parent before even getting pregnant.
We have more perks in life than our grandparents had in our age.
Charity activities should be disclosed in schools.
Climate change is the result of human activity.
The standardized grade system should be canceled.
People should be allowed to carry handy defending weapons.
Topic ideas for middle school persuasive essays
The best superpower is the ability to fly.
Science is not for everyone.
The most interesting job in the world.
Home duties for children.
Pocket money should be earned by doing household chores.
Teenagers should have more freedom.
The best place to spend summer vacation with family.
Summer is not only for resting.
Why we should keep the school radio and newspapers?
Social media access for middle school students.
Sports lessons or music lessons: we should have the right to choose.
We should spend less time at school.
Kids can change the world.
Why having a pet is important?
Why we need more festivals to celebrate in schools?
Teachers should not ignore bullying cases.
Punishment for bullying at schools.
The Internet is not bad for students.
Why do we need to have separate classes for boys and girls sometimes?
Why cartoons are the best way to educate infants?
Best topic ideas for writing a persuasive essay in 2020
Learning languages in English speaking schools is very important.
Immigrants should speak English fluently.
The security level in school campuses is on the low level.
Drinking alcohol should be allowed after 18.
Facebook should be restricted to the kids under 11.
The examination system should be changed completely.
Survival plan in case of a natural or military alarm.
Parents should educate their kids too.
Racial discrimination should be financially punished.
Gun possession causes more problems than protection.
Drivers should retake driving exams every few years.
Health care should be available to every American.
Parental training should be obligatory for couples.
Sex education is important.
Assessments at schools are outdated.
Video games with violence are not the causes of bad children's behavior.
We should cope with climatic issues before conquering space.
We should refuse using nuclear power.
The legalization of medical marijuana should be done in every state.
Harming animals should be considered as a crime as well as harming humans.
Funny topics for a persuasive essay
Here are a few topics that are less serious than the previous ones:
Blondes are smarter than you think.
A good sense of humor can improve work results.
Drinking wine is better for your health than not drinking at all.
Banning homework is better for kids and parents.
Women can be even better at football than men.
Why it is important not to become Facebook friends with your parents?
Cheating is more common among men.
Cartoon characters as role models for kids.
Bird watching is the most boring activity ever.
The pink color is not only for girls.
Reach Success with Professional Help
We hope that our recommendations and ideas will guide you in the right direction while working on your persuasive essay assignment. Do not be afraid to adjust topics to your own vision. And do not get upset if you cannot cope with the task. You can always win some free time and get a great essay example if you address your request to our writing team. We are happy to assist you in your academic writing routine starting with choosing the topic and ending with composing the entire essay that will impress you, your classmates and your professor.