‹ Go back to educational blog
Guide, Tips and Samples of Writing a Good Leadership Essay
March 21, 2020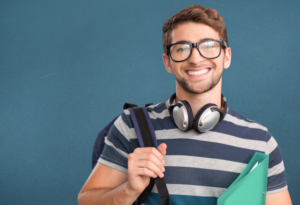 Today, leadership is everywhere. From preschool to colleges to workplaces, the household name to use on any occasion and to drop casually is leadership; and every school or college mentions this trait or talent as desirable in their potential students.
No wonder that many routine essays and key application papers are dedicated to this concept. So now we will explore this category of academic writing in-depth and will outline important points to consider and useful sources to rely on.
Leadership Essay – What Is It?
Leadership essay is, by the logic of reasoning, an essay about leadership. But leadership has many manifestations, including styles of leadership, key personas embodying the image of a leader, features of a leader, and even typical leadership mistakes and examples of bad leaders. So, the choice is wide, but there is a crucial point to remember. Most probably, you are expected to write something about your personal leadership experience, even if it will be limited to a couple of sentences saying how you would like to be a Martin Luther King-style leader or how you led and encouraged participants of the local community lemonade and cookies fair.
So, your essay needs to contain both: scholarly research on formal aspects of leadership and its understanding, and your personal views, evaluations, and desirably, examples of personal leadership skills or their development.
To begin with, clarify for yourself who a leader is. There are plenty of more or less scholarly definitions of leaders in business or social activities or in spiritual development. But they all can be reduced to a concise idea: a leader is the one who can lead others in the sense of inspiring, communicating the vision and goals to be achieved, and engaging others so that they wanted to achieve the given goals and worked towards it.
Coercion and rude power are not about leadership. They can play a positive role in certain situations, but soon teammates and employees will run away from such a leader, no matter how cool the ideas he or she promotes are.
So, with this in mind, conduct Internet research and see what interesting materials come to surface. They may prompt you a fresh topic, a new approach to the beaten tread of thinking and even inspire you to design your own idea of leadership in relation to what you see and experience.
When you have enough information at hand, you are ready to devise a clear topic and start drafting.
How to Plan and Draft Your Leadership Essay
The leadership essay has the same structure as any other typical essay. It features:
Introduction with a thesis;
Body of the paper with a few separate paragraphs;
Topic sentences in each paragraph, supported by evidence and your reasoning;
Conclusion;
References page if you used outside sources.
That's all to the structure of the essay. Now how to begin drafting, how to develop the idea and how to wrap it all up nicely? Let's clarify each point step by step.
Introduction
This is the part where you provide background and some interesting ideas to capture readers. The introduction usually invites to read further or scares readers away, so take care to use some hook that will attract attention and will not let it stray away.  This hook can be some statistical data, an anecdote, some unexpected fact or even some controversial idea challenging what you plan to say (and so you will be dismantling this controversy further). Just keep track of it as you will develop the paper.
Main idea or thesis
The introduction should narrow down to a thesis, the idea that you will develop and explain. A thesis is a marker of a good well-planned essay. If you have it, then most probably you will deliver a logical paper as well. So, draft your thesis carefully – it is usually one sentence that clearly says who is a leader or what is leadership to you. Never skip this step.
Body of the paper
Depending on the length of the paper, the essay will have 3, 4 or more paragraphs. Each paragraph will be dedicated to one idea that will be articulated and supported by evidence. If you begin by talking about the definition of a leader in your first paragraph, you will finish it with the same idea.
The next paragraph will talk about the features of a leader, for example, yet another will talk about who in your opinion meets these requirements to a leader, and so on. One paragraph – one idea written in the first topic sentence. Then go evidence, reasoning, and examples.
To make your story flow smoothly, use transitions, they are words or whole sentences that connect ideas of last and the next paragraphs. 'Meanwhile', 'therefore', 'for this reason', – these are examples of transition words. Make a list of them and have them at hand to use when necessary.
Conclusion
The conclusion says nothing new. It only summarizes what you have said and reminds of the thesis that you put at the beginning of the paper. Write 3-4 sentences that sum up your ideas and end with some call to action or inspiring words referring to the future (like, 'I will try and be the leader like ….', or 'I will try to improve my skills to be a better leader').
Useful Tips on Writing a Leadership Essay
Come up with a personalized topic. Or at least, build links between the generalized thoughts and your personal experience. You can always insert your own view or belief when talking about leadership, leaders, and so on.
Write in an active voice, whether it is a personalized or generalized essay. If you write on leadership, show proactive slant. It will be appreciated by the committee.
If you have drawn some personal conclusions from the story you tell, mention them. The ability to learn from own mistakes and mistakes of others is really valuable for a leader.
When you are tempted to use some cliché or generalization, stop. Why do you want to generalize? Say it in your own way instead. Say it with specific details. Words 'everyone, everybody' are very annoying to people who will read the essay. 'Everybody' means 'no one in particular' or 'I did not care to research' and shows that you lack specific data or ideas. So be as detailed and accurate in words as possible.
Let the essay rest for a day or two (so write in advance) and then reread it. You will be surprised by the number of unclear places and ideas that you will want to change.
Proofread grammar, spelling, punctuation. If you doubt your skills, ask friends or refer to your college Writing Centre.
Interesting Topics to Build a Leadership Essay Around
Of course, you can sit for several hours peering in the void and finally settle on the topic of the kind 'What is leadership' or 'Why MLK was a great leader'. They are safe but boring and well-treaded. Your essay will be like many others, with differences visible in word choice and in some minor details.
When developing the topic, apply some critical thinking and ethical thinking (that is, good/bad evaluation, to put it roughly). It is very easy to pick some great businessmen and describe his leadership style. But what if this businessman is ruthless? If to cut operational costs he/she cuts staff, thus leaving people in the streets? Is he/she a great leader yet? What is the goal of leadership? This is not to say that only spiritual leaders like Gandhi or King deserve praise.
But a great leader always moves towards the greater good, not only towards profit-making. This is probably the best way to decide on leadership. For example, Rockefeller and Trump are both moguls, but Trump is known for his steel-hard views on business making, and Rockefeller paid from his own pocket to workers building Rockefeller Centre during the Great Depression to keep them and their families afloat. Is one leadership style better than the other? Or do different times require different approaches? This is a ready-made topic, by the way. Ethics and leadership style in business on the examples of Trump and Rockefeller. It will make a thoughtful paper worth a high mark if developed properly.
But what if you want to write something impressive? Then turn to available sources that provide solid and accurate aspects of leadership that you may have not considered before.
We highly recommend reading articles by D. Goleman on six styles of leadership and by R. Kaplan about questions to ask the person in the mirror. They are available for free on the web, but they are reputable scholarly researches, in contrast to slap-dash blog posts that say nothing new or valuable.
Upon reading the articles, you arrive at the ready sets of valid topics that invite you to think, discuss and impress the readers with your knowledge and care in essay preparation.
Topics for essays based on Goleman's ideas
6 styles of leadership and their features;
How to determine your own leadership style and improve it;
How to pick a leadership style for a given situation;
What leader (according to 6 styles of leading) would you follow most readily?
The key advantage of this set of topics is that you can reason with reference to reliable materials and add your personal opinion that will be sound and plausible (not just some abstract ideas).
Topics for essays based on Kaplan's ideas
Vision and priorities setting as a key responsibility of a leader;
Feedback: should a leader receive it or his/her actions cannot be questioned;
Being a leader in times of hardships and pressure;
Raising a new leader: possible or not;
Is there a set number of leadership skills or is each leader a unique person;
Communication as a key feature of a leader.
The article is full of interesting insights and examples, but its main points are listed here for your convenience. Pick the pre-shaped topic, research and you are ready to create an impressive essay.
Interesting Topics for leadership essay
Is leadership about taking a risk and being very ambitious;
What makes a successful leader;
Getting promoted up the rank and remaining a good leader;
A good leader: an outsider or a person knowing the ins and outs of the company;
A person you cherish as a good leader;
A true leader in your community;
Your immediate plans on leadership initiatives within your capacities;
Your leadership skills/talents and how you plan to develop them.
This is a list of universal topics that can be spin into the essay of any length. Just be sure to research the chosen topic first, and then write with examples taken from real life or from the sources you used.
Sample of a Leadership Essay
What is leadership? This question is answered today in many different ways, depending on the affiliation of a respondent and the field in the context of which leadership is discussed. Every other person whose name is featured on the media is routinely called a leader, whether he or she is ahead of a startup that collects millions of dollars in rounds and then lays off the staff, or a politician who leads by virtue of a position, not the personal qualities. The idea of leadership becomes blurred and conventional, often with negative shades of meaning from the reputation of people to whom this title is applied. So, when I try to define who a true leader is, I look up to the former school teacher, who now helps to overhaul the community routines for better, and who does so not by orders (who would take her orders?) but my own example and vision that engages everyone who gets to know it.
Mrs. Jones has been a teacher for more than 20 years. She has nurtured and educated several generations of our local people. No one has ever remembered her scolding or punishing students. She always inspired, challenged and led. No wonder, that when she retired, her school legacy made her voice count in affairs and decisions concerning our community and neighborhood. But with time, it became clear that she can lead not only kids, but also adults, and unite them around ideas that will bring greater good for all of us. 
It was Mrs. Jones who came up with the idea of organizing a sports ground for kids to use after classes, it was her idea to hold monthly conventions and fairs to gather funds for a local retirement facility, and these but few of her great initiatives. Yet, to suggest a cool idea is one thing. To make it happen is totally different. It was personal involvement and leading by personal example that made me consider her a real leader whom I would like to imitate in my life.
Mrs. Jones is not young, neither does she have a battalion of assistants and employees who would run her errands. Everything she offers is initially planned and implemented by her personally, and other people join along the way. She blazes the trail, and others take it. When the idea of a sports ground was first offered, the municipal authorities were hostile to it because of additional expenses and permits involved, and people living in the community did not believe they can do anything about it. Mrs. Jones walked from door to door to get signatures to her petition and explained to everyone how she would act next, she wrote letters to boards, charity funds and donators, and as the list of things she attempted grew, more and more people got engaged in her quest. If she could walk, petition and be heard, then they all can be. So, after several rounds of petitioning, rallies, paperwork and compromises a sports ground was organized. Hundreds contributed by money, helping hand or some other assistance. It was a huge win for the community and for everyone who saw that things can be changed for better. To be more accurate, Mrs. Jones showed it and proved it to us.
To me, she is a true leader who inspires by own examples, who leads by kindness and vision, who can explain what she wants to achieve and show that it can be achieved. The last consideration is the crucial one.  Everyone can invent tasks for others and then criticize for not completing them. Only chosen few will undertake these tasks first and show that these tasks are accomplished. Or at least provide a clear plan of how to do it. Mrs. Jones knows it all since she is a school teacher. And long after her school career ended, she remains a teacher of leadership to me, and to many others.
Conclusion
Now, we believe, you are ready to tackle the task of wiring leadership essay. Explore our guide and tips, read the sample and build an amazing paper that will bring you a good grade or will land you in the desired college.  No matter what topic you choose, be serious, sincere and explain your ideas clearly. That's the key to success. Or else – ask us to perform this task for you, and we will do it gladly, with the best results for you!