‹ Go back to educational blog
How to End an Essay: 5 Tips and 3 Styles of Conclusion
February 1, 2020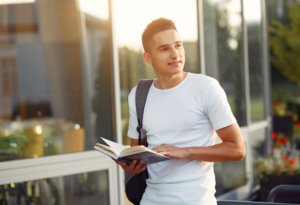 Writing an essay is a challenge for most authors. No matter is it a new task or student is quite experienced in this field, but all academic papers make you nervous. At the same time, this task has independent parts which can mean more or less danger. Today's article will be dedicated to people who consider the end of the essay to be the hardest section.
What Is the Good Ending for an Essay
When you write an essay, each part must be brilliant. If you prepare a cool introduction and explain all thesis statements in the body as a professional, it means you almost win this challenge. But such a small part of the text as a conclusion can cause serious troubles you didn't expect.
So, the good conclusion for the paper must meet the following requirements:
Be relevant to the topic, body, and thesis statements. If you make a great conclusion that doesn't suit the main idea of the text, then it will be a useless paragraph. You must write the end of the essay according to all previously written sections;

Be short and clear. Depending on the type of essay you have one or several paragraphs to write a conclusion, which means 10-20% in total. It is really a small amount of text that must make sense. Remember, that you have a small space for writing, but each sentence should be clear and direct. Also, the number of statements in the conclusion should be approximately the same as the number of sentences in the body; 

Include only previously mentioned information. You are not able to place any new information at the end of the essay. All thesis statements, arguments, and evidence belong to the body, so make sure to place these facts in the main text. You are able to repeat some of them in the end, but never place there any new argument. This is one of the most serious mistakes for writing a conclusion; 

Persuade readers. If the type of your essay has a goal only to inform people about something, then there is no need to persuade readers in your point of view. But often the conclusion has to be a final word that motivates the target audience for further actions.
Remember, that the end of the essay is your last chance to improve readers' impression of your text. Usually, after reading the body your target audience can make own conclusions about your paper. So, the final sentences will support or improve their impressions.
Due to these reasons, students need to pay attention to the end of the essay. Make sure, you can do it with all your skills and never consider this section to be just a final word no one will ever read.
The Basic Structure of the Essay Ending
The main goal is to make your conclusion short, easy, and clear. It sounds simple, but usually, this is the hardest task for a student. We are keen on making hard tasks, but when it's come to simple elements, we just can't believe it could be so simple. So this step-by-step introduction with the proper structure of the essay ending will become your great template for future papers.
Paraphrase thesis statements
The author needs to restate several sentences in the order he previously used. Just use the same idea, but write it using other words to explain your target audience your position. Keep these sentences short and clear.
Repeat your extra ideas
These supporting elements help to make the essay strong and argumentative. You need to highlight them in the body beforehand to place them at the end of the text. Just list extra ideas and do not add any useless information.
Explain how you have proved your thesis
Remember, that all your essay is based on the thesis statements which you have created beforehand. These simple phrases mean a lot for the paper and work as a silver lining for proving the author's position. To explain the way, you were able to prove your thesis.
Connect your final words with the hook in the introduction
Usually, authors use different hook sentences at the beginning of the essays to grab readers' attention. Your conclusion must be connected with this phrase to explain why you have chosen exactly this kind of introduction. Well, you can skip this stage, but it is definitely better to use such a hook in the text.
Edit and correct your conclusion
Sometimes authors prefer to write several conclusions to pick up the best one. At the same time, experts insist there is no need to make 5 good sections, but only one brilliant. So, make it the way you are comfortable. Always check the text for mistakes and misprint to make sure your essay ending is perfect.
How to Make the Best Conclusion: 5 Secret Tips
Avoid making a simple summary. Such an approach is good for long research papers where the author uses numerous arguments, but the traditional essay is quite short. That's why restatement of the main ideas from the text will suit you better;

Try to bring the new level of communication to your conclusion. While you can't place new information, you are able to share more deep findings according to the thesis statements;

Prefer to avoid quotes. This is a great literature tool for all essays, but a conclusion is a place for your personal overview. It's better to share your opinion if it is allowed or make a short summary according to the body;

Don't concern about minor problems. Your text may be divided into major and minor ideas, so try to keep the balance between them. The major ideas have more weight for the findings;

Control your language. There should be no mistakes and misprints, fluffy words and adverbs. Prefer concise, clear and simple language to make your essay be finished.
If you use these simple tips, you will perform your essay and its conclusion much better than you are expected. So be sure to give yourself a lesson and discover the example of a conclusion of the essay.
3 Ways to Conclude Your Essay
There are 3 main ways to make a conclusion for your essay. Among them are such approaches: to summarize, to editorialize, and to externalize. The most relevant option depends on the topic of the assignment and the author's preferences, so let's see the main particularities of each one.
#1. To summarize
It means to restate the thesis and make a simple summary of the main arguments from the essay. But notice, that you can't use any reflexive phrases like 'I think', 'I'm sure', etc. This option is great for papers with technical topics and clinical tones, such as surveys, reports, definitions, and so on. It is especially great for long academic papers.
#2. To editorialize
This option means the author can finish the essay with his personal impression from the topic and his text. Your feelings, findings, and concerns are welcomed to be in such a conclusion. Such type of ending is great for essays which include strong personal connection, controversial positions, and persuasive aim.
#3. To externalize
It's a great way to finish an essay that may have further topics to discover in the future. You are free to use this way of making a conclusion for wide topics and papers with the digression. It is great for both short and long essays.
The Example of an Essay Ending
Depending on the type of essay (for instance, analytical, persuasive, controversial, etc.) your conclusion will differ. The following text is just a template to make you understand how good essay ending may look like.
The topic: Should we celebrate Columbus day or not
Type of essay: expository essay
The text of conclusion:
Still, in the XXI century, we have so many controversial ideas about Columbus day celebration. Some people consider, that we wouldn't have such a country without his participation, while other people believe such a fact caused thousands of native Americans to be killed. There is no way to make one decision, but the role of Columbus in American history is significantly important with its positive and negative aspects.
Additional information: this expository essay is focused on the serious issues and includes several reliable positions about this question. Its main focus is thesis statements, so the author just used the introduction and make a perfect ending which will offend neither the protagonist nor antagonist of this idea.
Conclusion
If you need to prepare a great ending for your essay, you need to make great efforts. Sometimes students make an awesome introduction with the body and failed with a summary or write awful beginning with the main part, but prepare an awesome conclusion. Such situations happen very often, but don't let yourself to be an ordinary author.
Thanks to professional tips and bits of advice you may write an amazing essay from the first sentence to the last punctuation mark. There is also a great opportunity to get experienced assistance in writing the conclusion for an essay or the whole academic paper. Choose the way you are comfortable to work with and make the best paper!