‹ Go back to educational blog
How to Cite a YouTube Video in Academic Papers
February 9, 2020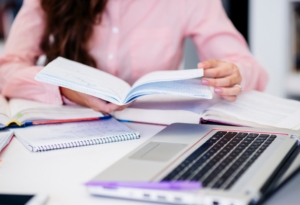 In writing academic papers, the author must cite all sources he referred to in his work. This is the strict rule you can't break. Plagiarism free is an important feature of any type of content, including academic and business. That's why all papers are checked for plagiarism to estimate its quality. Don't let yourself spoil own work only because of wrong citations.
It may sound unusual, but YouTube videos are also must be cited according to all academic rules. So, if you have such references in your paperwork, you need to create relevant citations.
The Power of YouTube Citation
Citations have always been an important part of the academic papers. All authors know that most of the task assignments require from them not only to support own positions with relevant works of other people but also to add their names in the reference list. This is a culture of paper writing and dignities in the scientific community.
Years ago, students were able to use only books, articles, and other printed publications. Later we got an opportunity to place links to electronic sources, like online libraries, journals, and blogs. The latest way to support your academic paper is to use relevant information posted on YouTube channels. It is a modern option to make your content new and fresh.
For example, universities start publishing the video of lectures for students from other educational establishments. This is a very important and useful approach that allows professors from different colleges and universities sharing their knowledge with a wide community. Besides, such lectures may also include references which may be vitally important for students.
So, citations from YouTube are allowed right now for your papers. But you just can't place a link of the YouTube video and expect praise. There is a standardized rule on how to make citations for such content. All authors are obligated to use special rules on how to cite such content. Remember, that owners of YouTube channels and unique content deserve credits. All you have to do is to find out basic requirements and follow them. As a result, your essay will be brilliant and include no citing mistakes.
The Typical Structure of YouTube Citation
In general, citing YouTube videos is very similar to other primary and secondary sources. Your professor and education establishment prefer the exact writing style, so you just need to follow the rules. The author is expected to use APA, MLA, Chicago, or other relevant formatting.
Regardless of the format, you need to use you will place exact information in exact order for a citation too. Here is the basic information you need to collect for citing a YouTube video:
Title of the YouTube channel;

Title of the video;

The URL (link of the video);

Data when the content was posted on YouTube;

The length of the video.
Even if you are not a regular YouTube user, you will easily find these things on the one page of the video you are going to cite.
How to Improve Your YouTube Citations
The main advice in citing YouTube videos is to follow the instruction step-by-step. There is no hard rule you can't execute so even a small mistake will be significant enough to decrease your final mark. Also, these additional tips will be quite useful:
Choose only relevant sources. Don't refer to the channels which are dedicated to another category (if your task assignment doesn't mean it). Choose those YouTube videos which are really relevant to your topic;

Make sure the content is true and authoritative. Using books is a more reliable approach because printed information was previously checked. Unfortunately, we can't be sure in the quality of YouTube videos, but try to find it out;

Use samples of citations. Usually, writers need to see a template only once, so they can understand how to cite a YouTube video. It's better to find a reliable source or a professional assistant who will teach you making citations.
Types of YouTube Citations
Start citing a YouTube video with the relevant style. Here are the bits of advice for using 3 of the most popular formats: APA, MLA, and Chicago. Note, that all examples are quite similar and have only small particularities. So, the author has no way but to be very attentive. It is also highly recommended proofreading your citations to make sure everything is fine and make final edits.
APA
This type of citing videos means you should start with the compiler name. It could be only the username available or the full producer's name. If you know both names with surname and username, then write down all data. Small advice: you should place a real name first and add brackets to the username. In case you know only one name, you can use it without doubts.
After you have found out the name, continue to write down the date of posting content. It is available right under the video. Use the following format: year, month, and day.
The next step is to place the title of the video. Use the capitalization only for the first letter and words which require it according to the grammar rules.
On the final stage, you have to find out the type of the video and add a link. Note, that the link should be placed after the phrase 'Retrieved from'.
MLA
You need to start with the name or publisher and add a period. In other situations, it is possible to place a person name, the name of a company or brand. All options are great for your reference list.
After figuring out the name you need to place the video title. Just copy and paste it from YouTube. Don't forget to add quotation marks. Also, you need to capitalize the first letter of each major word in the sentence.
On the next stage, you need to explain that this source is published on YouTube. Of course, the link includes the website name, but MLA formatting requires additional mention. That's why the author is required to add the title of the website and follow it with a comma.
The final elements of citation in MLA style are the name of the user who has uploaded the video; the date of posting content; the URL.
Chicago
Start the reference with the name of the video. Use capitalized letters for all major words, place the title in the quotation marks, and end it with a comma.
Then you need to explain that this source is published on YouTube. This stage is the same as for citing videos in MLA style.
On the next stage add the information about the video length. Use a colon to separate the hours, minutes, and seconds of your file.
You are free to add own notes to give readers supplementary information. For instance, where the video was recorded.
At the end of citing YouTube video in Chicago style, the author has to name who has posted it. Start this section with the phrase 'posted by' and write down the user's name. The date of publication should be also noticed.
How to Cite a YouTube Video: an Example
Let's start with defining 5 basic information for your citation. We will choose any video after opening the YouTube main page. The video's URL is available at the top of the page. There is a progress bar, that demonstrates its general length and a moment when you press a pause. Under the video, we can see its title, and a little under there are also channel name and date of publication. This is all the information you are required using for your reference list.
As it was mentioned above, the final text of the reference depends on the preferred writing style. Here are several examples of different popular formats.
APA video citation
YouTube. (2019, September 8). University of Melbourne July Physics Lectures 2019 – Professor David Jamieson [Video file]. Retrieved from https://www.youtube.com/watch?v=a5DPohInifk
MLA video citation
"University of Melbourne July Physics Lectures 2019 – Professor David Jamieson." YouTube, uploaded by The University of Melbourne, 8 September 2019, https://www.youtube.com/watch?v=a5DPohInifk
Chicago video citation
"University of Melbourne July Physics Lectures 2019 – Professor David Jamieson." YouTube video. 1:11:57, posted by The University of Melbourne, September 8, 2019, https://www.youtube.com/watch?v=a5DPohInifk
Conclusion
Writing an academic paper means the author will mostly use books, articles, websites to gather information. But YouTube becomes more and more authoritative with the incredible amount of useful content. That's why students tend to place links with video in their reference lists. It is okay and welcomed by the academic community, but only in case, you can cite the content in a proper manner.
So, make sure you know how to cite YouTube videos and do it right. This guide will be very useful, so save it for later. And of course, you are free to ask professional writers for additional information or experienced assistance at any time of day and night.