‹ Go back to educational blog
Write a Unique Descriptive Essay Using Our Tips
May 16, 2020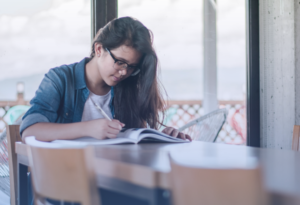 A descriptive essay is an essay in which you have to describe something, such as an object, place, person, emotion, experience, etc. It's short and one of the simplest academic papers. This assignment stimulates a student's ability to describe a certain experience. It gives enough room for your artistic freedom. That's why, in this essay, you create an image that is vivid in the reader's imagination.
It's necessary to use words containing the information that will stir the reader's senses, such as sight, hearing, taste, and smell. You illustrate your descriptive essay with words, painting pictures with words. For example, if you write in your descriptive essay about the place you visited, your task is to write your vivid impressions.
There are following types of a descriptive essay according to the object of description:
A human descriptive essay. To describe a person is more difficult than describing any other object. In this case, you have to write about the behavior, appearance, mood, actions of the selected person.
An essay where the place is described. Such descriptive essays focus on describing a place. For example, you might write about your wonderful trip to Rome and describe the most splendid sights. Your task is to present the magnificent atmosphere of this ancient city, and its mystery and classical chic.
An essay where the event is described. You might describe your birthday party, loud guests celebrating your holiday, lots of presents and fun.
An essay where an animal is described. Amazing wonders of wild nature can be described in your animal descriptive essay if you select an animal.
An essay where an occupation is described. If your task is to write an admission essay, you might need to write an occupation descriptive essay about your perfect job.
A behavior descriptive essay. For example, you can describe the behavior of your friend, who is hiding some secrets from you.
The Typical Structure of a Descriptive Essay
Let your reader feel and see the way you want. It is the main goal of a descriptive essay. It's not just describing a place, an object, or a situation. You write your thoughts and impressions on the paper.
A descriptive essay is an academic assignment; that's why it has its logical structure. It includes the following typical parts:
The introduction. In this part of the descriptive essay, you should make it clear why you've chosen for a description of this particular place, object, or person. You include in this part, an impressive thesis statement that must catch the reader's attention from the very start.
The body. It is the central part of your descriptive essay, where you should pay more attention to the principal points. Every point is paid attention to and discussed in a different section. In most cases, the central part consists of three paragraphs:
In the first paragraph, you describe the characteristics and most prominent features of the object. Try to write as vividly as you can and mention every detail that you can observe.
In the second paragraph of your descriptive essay, you will describe the surroundings. To be more expressive and to produce a livelier impression, you may use various stylistic means to plunge the reader into the surrounding atmosphere.
In this paragraph, you write about everything that concerns emotions and senses (everything you can smell, touch, see, hear, feel). The reader should see a live picture in their mind.
The conclusion. In the last part of your descriptive essay, you should emphasize the significance of your description. All emotions, impressions, and attitudes are summed up.
Useful Tips on How to Write an Impressive Descriptive Essay
Stages of writing a descriptive essay:
Pre-writing. If you have a clear, distinct image of the object you are going to describe, you still should look for additional information on the topic. Having experience in the discussed field will be an advantage. You should focus on your senses, smell, taste, etc. when you recollect your situation and create an outline.
You should begin writing your descriptive essay in the following way. Start your essay with a strong, compelling hook to captivate the reader's attention by a literary quote, reader's attention: metaphor, famous people quotation, famous people quotations, a line of poetry, a compelling fact, etc.
Write a draft for your descriptive paper. Write whatever comes to your mind; you will edit everything later. Try to create an image of the object using words. The more vivid image you manage to create in the mind of your reader, the better your descriptive essay is. It's one of the most important qualities of a good narrator.
Make use of online dictionaries and enriched English vocabulary. To add some missing feelings to your descriptive essay, such as seeing or hearing, you should use your English language vocabulary. Try various adverbs and adjectives; pay attention to the language of your descriptive paper. It should be expressive to convey all of your feelings fully. The more various adjectives you use, the better.
Revise carefully and edit your descriptive essay using different free online grammar checkers. The structure of your paper should possess all the below-mentioned characteristics: there should be transition words or phrases between the paragraphs, sentences should be arranged in the best possible way. When you are writing the essay, follow the given instructions attentively, when you do the editing, correct mistakes in spelling, grammar, and punctuation. Your paper should present your great knowledge of the English language and impeccable writing skills.
The following tips will help you to understand the process of writing your descriptive essay better and write more effectively:
Brainstorm to get more ideas. For example, if your task is to describe a flower, you might think of roses, tulips, sunflowers, daisies, daffodils, and violets. Write down several names of the flowers and make a list of descriptions for each of them.
Write in a concise and explicit language. Choose words attentively, taking into account their relevance to what you are willing to describe in your paper.
Use vivid language. If you want to give a more precise and expressive description, use "mansion" instead of "house." Use "violet" instead of "flower." If you choose to use more vivid words, they will create a more live image in the reader's mind. Such words improve the quality of description, adding minor details that create a more impressive picture.
Appeal to the reader's senses in your descriptive essay. Write how something sounded, looked, felt, and tasted. Decorate the scene with all possible senses.
Describe feelings and emotions to allow your reader feel things you describe more vividly (for example, agonizing fear, brief attention, expressive laughter, etc.) Use the emotional power of words to its full potential.
Write about things that might be familiar to the reader. If your reader sees every day one of the museums you've described and recognized it, that means your description is noteworthy.
Your descriptive essay should be logical and organized. Though it's easy to get lost in the sea of emotions when you write a descriptive essay, your writing should remain logical and organized.
13 Topics for Your Descriptive Essay
Below you will find some new topics for your descriptive essay. If necessary, you can modify any of them or use it as it is.
Describe your best friend from school.
Describe one of your most favorite places in your town.
Describe the most momentous trip in your life.
Describe how your pet differs from other pets.
Describe the person whom you consider your enemy.
Describe your usual everyday routine.
Describe the New Year celebration that you remember best of all.
Describe one of your closest relatives.
Describe the most beautiful park in town.
Describe the most vivid memory from your childhood.
Describe any musical event you attended to.
Describe one of your favorite shopping centers.
Describe the place where you like to walk.
Describe the cafe or restaurant which you like to visit most often.
A Descriptive Essay Example
I will describe my room, which is my favorite place in the house. It is not too spacy but well-lighted, especially on a sunny day, with a big window. The walls of my room are light-brown with several fancy pictures and photos on them. The curtains are light-brown as well, floor-length, and look beautiful in the bright sunshine. My computer table is near the window on the right. It is where I usually do my homework. The bed is low but very cozy, covered with a white and violet fuzzy blanket. There is no carpet on the floor, and it's covered with modern light linoleum. I like staying in my room in the evenings when it's dark outside the window, and mysterious shadows of the late evening outside the window might seem a bit disturbing. That's when my room is especially cozy. To my mind it's comfortable, and I like spending time there.
If you follow the tips from this article, to write a unique descriptive essay will seem an easy task for you. Hopefully, you will use all the language means to make your descriptions vivid and live that will produce an essential emotional impact upon the reader.